Uglydoll is a brand based upon a line of plush toys which began as a long distance letter between the creators David Horvath and Sun-Min Kim. The Uglydoll line was first launched in January 2001 and is distinguished by its definition of the word "ugly." In the "uglyverse," ugly means unique and special, that we should be celebrating that which makes us different, never hiding the twists or turns which make us who we are, inside and out.
Uglydolls were awarded the Specialty Toy of the Year award by the Toy Industry Association in 2006.
History
The name of the brand is actually UGLYDOLL with no "s" at the end. It started with a letter David Horvath wrote to Sun-Min Kim just after she had to move away due to a student visa expiring, long before they were married. That letter had a cartoon of his character Wage at the bottom saying: "Working hard to make our dreams come true so we can be together again soon" next to it. That dream was to tell stories through books and toys. As a surprise gift Sun-Min sewed a doll of Wage, and sent it to David in the mail. David showed Wage to his pal Eric Nakamura, owner of the Giant Robot magazine and store, who thought David was pitching him a product and immediately ordered a few more for his shop. David wrote to Sun Min asking her to sew more, while sending emails with stories about Wage, Babo and Ice-Bat's first ever adventure, soon to become Chilly Chilly Ice-Bat.
Uglydoll Characters
2000-2005
Wage
Babo
Ice Bat
Target (Discontinued)
Jeero
Cinko (Discontinued)
Copee (Handmade, one of a kind, discontinued)
Picky (Discontinued)
Tray
OX
Uglydog (available in red and pink, and now only in holiday or blue)
Wedgehead
2006
Chuckanucka
Bop 'n' Beep
Moxy
Big Toe
Peaco
2007
Abima
Deer Ugly
Gato Deluxe
Toodee (Discontinued)
Uglyworm
2008
Babo's Bird
Plunko
Poe
Puglee
Ugly Ghost
Cinko (Re-continued)
2009
Trunko
Fea Bea
Winkolina
Mr. Kasoogi
Mrs. Kasoogi
Turny Burny
Uppy
2010
Cozymonster
Flatwoodsey
Jrumpy
Ket
Mynus
Mij
Nandy Bear
Ninja Batty Shogun
Picksey
Pointy Max
Tutulu
Uglybot
Wippy
2011
Basheeshee
Brip
Dave Darinko (available in gray and red)
Groody
Suddy
Ugly Charlie
Jrizzy (Mentioned in Ugly Charlie's bio only)
Brad Luck (As Citizen 1)
Nopy (As Citizen 2)
Meetso (As Citizen 3)
Quippy (As Citizen 4)
Querit (As Citizen 5)
Sour Corn (As Citizen 6)
Heu Googeuy
Ikoy Yoki
Gerry Berry (As Citizen 7)
Thumb Crumba (As Citizen 8)
Langis (As Citizen 9)
Gleno (As Citizen 10)
Wrey Wrinko (As Citizen 11)
Zoltan Zolto (As Citizen 12)
Tub Nubury
Hib Eyebye
Niimah
Brip Drip
Jiker
Kram Scrammy
Croudy
Indrid (As Citizen 13)
Jay Jrizzy (As Citizen 14)
Big Brenny (As Citizen 15)
Glary Glen (As Citizen 16)
Jayberry (As Citizen 17)
Small Timer (As Citizen 18)
Recky (As Citizen 19)
So Greeno (As Citizen 20)
2012
Gragon
Softy
Flatter
Little Bent
Handsome Panther
Mover
Gassy
Ghosty
Love & Peace Wippy (available in pink and blue)
First Mate Trunko (red)
Uglycorn (purple)
Sleepy Chilly Ice Bat (new colors)
Pirate OX
2013
Hot Foot
Gorgeous
Fishy
Cold Feet
Cheesy
Uglybuddies
Ox & Ice Bat
Ice Bat & Wage
Wage & Babo
Wedgehead & Ox
Babo & Babo's Bird
Bop N Beep & Jeero
Ninja Batty Shogun & Dave Darinko
Ugly Charlie & Ket
Tutulu & Wippy
DC Comics
Babo as Superman
Ice Bat as Batman
Jeero as Flash
Ox as Green Lantern
Wedgehead as Robin
Tray as Wonder Woman
Big Toe as Joker
Limited Editions
2003-2006
Green Cinko - FAO Exclusive - edition of 300
Green Wage - Tower Records Exclusive
Blue Ox - Kidrobot Exclusive - edition of 100
Gama Go UglyDoll - Gama-Go Exclusive - edition 50 all handmade
Green Wedgehead - Super 7 Exclusive - edition of 100
Halloween Ice Bat - Super 7 Exclusive - edition of 75
Thawed Ice Bat - Giant Robot Exclusive- edition of 200
Sneak Preview Little Uglydolls - SDCC Exclusive
Sailor Babo - Uglycon 1 Exclusive - edition of 50
Secret Mission Uglydolls - SDCC Exclusive
Red Tooth Wedgehead - edition of 200
2007
Ice Lodge Uglydolls - SDCC Exclusive
Akihabara Pink Ice Bat - edition of 100
Blue Abima - edition of 100
Ice Bat Uglycon Tokyo Collection - 4 different color variations - editions of 25 each
Poe Uglycon 3 NYC Collection - 8 different color variations - editions of 25 each
Sailor Poe - edition of 25
Hidden Poe Variation - edition of 25
Sea Sick Sailor Babo - edition of 100
Sleepy Chilly Ice Bat - 3 different color variations - editions of 200 each
Red Ice Bat - InTheYellow Exclusive - edition of 100
2009
Coldy Holdy Ice Bat - FAO Exclusive
First Mate Trunko - SDCC Exclusive
Hidden Poe - NYCC Exclusive
OX Collection
Ket (pink) - Kitson Exclusive
2010
Big Toe Collection
Blue Nandy Bear - Learning Express Exclusive
Ket at Night (dark blue) - Kitson Exclusive
Long Time Ago Ice Bat - Giant Robot Exclusive edition of 300
Red Flatwoodsey - FAO Exclusive
Uglycorn - SDCC Exclusive
Land's End Uglydolls - Land's End Exclusive(only little uglys and keychains)
2011
Uglycat - Japan Exclusive
Cookie Dream Babo - SDCC Exclusive
Cookie Chef Babo - Redemption Certificate Exclusive
Holiday Uglydog - FAO Schwarz and Toys 'R' Us Exclusive
2012
10th Anniversary Wage
Power Babo - SDCC Exclusive
2013
Money Bags Ox
Sleepy Ice-Bat
Babo Bear
Non-Produced Uglydolls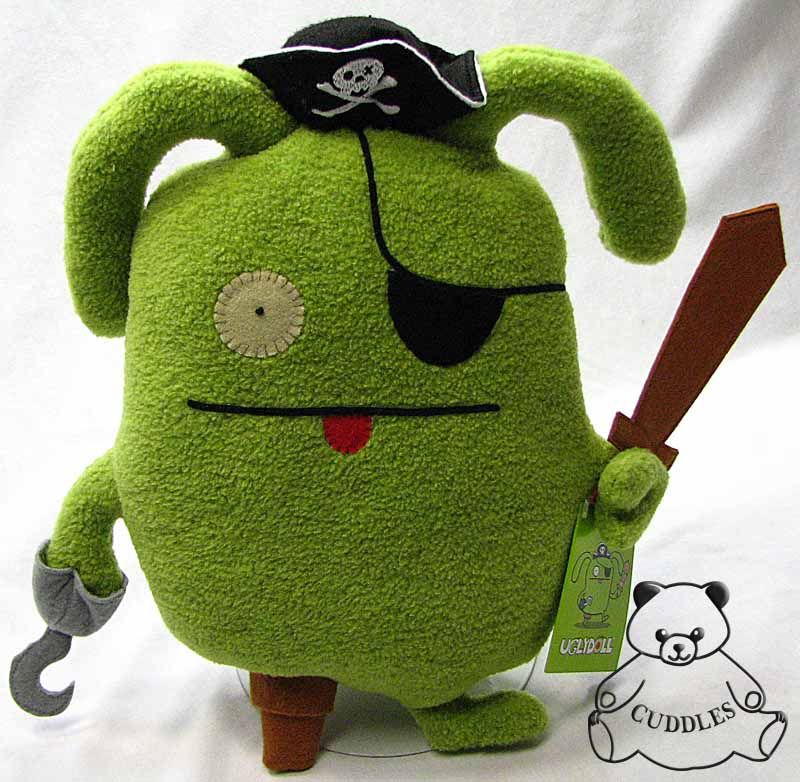 These Uglydolls were sewn by Sun Min, but they were never produced.
Tadpole Wage
Black Gragon
Zakka
Coli
Aquatic Wage
Babo Train
Dragon Catcher
Jeero Junior
TooDoo
David Horvath & Sun Min
Plaid Ice Bat
Plaid Babo
Plaid Jeero
Ugly Yeti
King Wage
King Babo
Evolved Uglydolls
These characters evolved into other existing characters. Here are those characters' names and who they later became.
Boo Boo - Became Ugly Ghost
Smartypants - Became Trunko
Nadi - Became Uglydog
Bee Fee - Became Fea Bea
Action Figures
2002 (Critterbox 7-8" vinyl)
Wage
Babo
Ice-Bat
Jeero
Ox
Wedgehead
Tray
Target
Cinko
Uglydog (a pair with dog bowl & bone)
2009 (3" Vinyl)
Wage
Babo
Ice-Bat
Jeero
Ox
Wedgehead
Red Tooth Wedgehead
Glow-in-the-Dark Ice-Bat line
2010 (3" Vinyl)
Big Toe
Peaco
Poe
Trunko
Uglydog
Uglyworm
2011 (3" Vinyl)
Babo's Bird
Kaiju Ice-Bat
Ket
Nandy Bear
Ninja Batty Shogun
Pointy Max
Appearances in popular culture
In the 2007 film Mr. Magorium's Wonder Emporium, the Uglydolls Wage, Ice Bat, and Tray were seen in the store, and were animated to dance near the end of the film.
On her first day of school in 2009, Sasha Obama, U.S. President Barack Obama's daughter, wore a Babo's Bird keychain on her backpack.
A Coldy-Holdy Ice Bat is seen in FAO Schwarz in the 2011 film "The Smurfs".
An IceBat was seen twice in the 2007 Disney film "Enchanted" sitting with other stuffed toys in the bedroom.
A Wippy Uglydoll was seen in the January 23, 2013 "Get Fuzzy" comic strip.
An IceBat is in several scenes in the film "Zathura, as is a Wedgehead t-shirt."
Uglydoll Action Figures can be seen in the background on bookshelves in the British comedy show, "The IT Crowd."
Film
In May 2011, it was announced that Illumination Entertainment had acquired rights to Uglydolls to make an animated feature film. Four years later, Variety reported that an animated film based on Uglydolls will be the first project produced by STX Entertainment's new family and animation division.
References
External links
Official Links
Fan Links
JCWage's Collection Pics
Barry O'Neil's Adventures In Uglyworld Blog