Stanley is an animated television series that was aired on Disney Junior (previously known as Playhouse Disney), based on the series of children's books written by "Griff" (as indicated on the cover of the original book), also known as Andrew Griffin. It was produced by Cartoon Pizza, and was developed for television by Jim Jinkins (the creator of Doug, PB&J Otter, Allegra's Window, JoJo's Circus and Pinky Dinky Doo) and David Campbell.
Stanley teaches a wide variety of issues preschool children face, including change, growth, rules, and dealing with others. Each episode centers on an animal that deals with or helps explain the issue Stanley is grappling with.
Junkanoo and reggae fusion group Baha Men, known for "Who Let the Dogs Out", sang the theme song for the series, "My Man Stanley".
Synopsis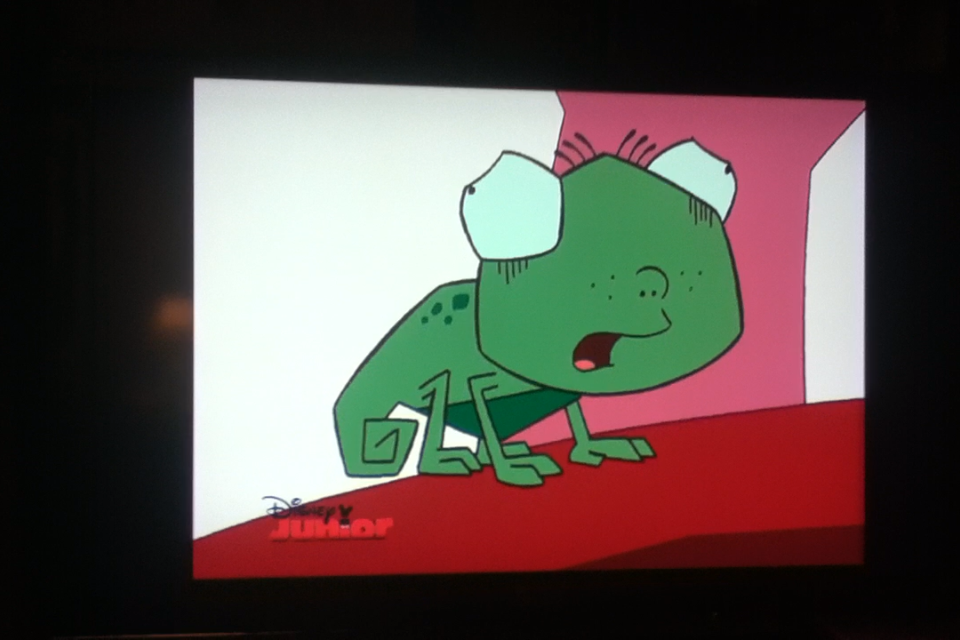 Each episode shows Stanley (voiced by Jessica D. Stone) in a situation he does not fully understand. He discusses it with his pet goldfish Dennis (Charles Shaughnessy) before consulting the Great Big Book of Everything, a remarkably complete zoology book aimed at young children. By observing how an animal copes with the same situation Stanley faces, or how it can overcome a similar difficulty, Stanley learns to deal with the situation himself.
Throughout the show Stanley and all his preschool aged friends are able to talk to his pet cat, Elsie (Hynden Walch) and dog Harry (Rene Mujica) as well as Dennis. Other animals also seem to occasionally respond, but never talk or give a definite indication they truly understood what was said. Stanley and his friends actively try to keep the adults (that is, except Stanley's grandmother), and by extension Stanley's older brother Lionel, from realizing this.
The Great Big Book of Everything appears to be magical in nature, able to either let the animals out of the pages or allow the children to enter, sometimes changing them into animals in the process. This does not appear to be imaginary since occasionally adults do notice the noise, and Stanley works hard to hide the animals. There is also an episode where Stanley's brother sees a T-Rex in the yard, but dismisses the memory when it disappears back into the book.
The Halloween special features Stanley's grandmother who, it is implied, is a witch. She reveals that she too can work the book, and in fact was the one who gave it to Stanley. She was also the one who taught its theme song to Harry and Elsie.
When someone says the "Great Big Book Of Everything", hints it out, or even has the book, Elsie and Harry will wake up or find their way into the scene and start singing. This usually annoys Dennis, who after the introductory verse, says something like "Oh not again!".
Broadcast history
In the US, the series aired on Disney Channel's daytime preschool block Playhouse Disney since its debut, September 15, 2001. When Playhouse Disney rebrands its on-air presentation in 2007, Stanley was put on a new timeslot at 6:00AM ET on the weekends. As of May 2008, Stanley no longer airs on Playhouse Disney, but DVD's and books are still available. In February 2011, the show was completely removed when Playhouse Disney rebranded as Disney Junior. The show was briefly seen online on DisneyJunior.com as part of "fan favorites" week on the week of June 20, 2011, and it cannot be seen on the internet any more. As of March 23, 2012, the series returned on the U.S. airwaves on Disney Junior.
In Canada, it ran on The Family Channel from 2002 to 2007, and then was moved to Disney Junior, which has been running since 2007. It also aired on the Canadian-French version of Disney Junior since 2010.
Disney Channel (United States) (September 15, 2001 - early 2008)
Disney Junior (United States) (March 23, 2012 â€" present)
Family (Canada) (2002 - November 29, 2007)
Disney Junior Canada (English) (November 30, 2007 â€"September 27, 2013)
Disney Junior Canada (French) (July 5, 2010 â€" present)
Cast
Charles Shaughnessy - Dennis
Jessica D. Stone - Stanley Griff
David Landsberg - Mark Griff
Ari Meyers - Joyce Griff
Rene Mujica - Harry
Shawn Pyfrom - Lionel Griff
Hynden Walch - Elsie the Cat
Philece Sampler - Lester Goldberg
Khylan Jones - Mimi & Marci
Candi Milo - Ms. Diaz
Wallace Shawn - Mr. Goldberg
Awards and nominations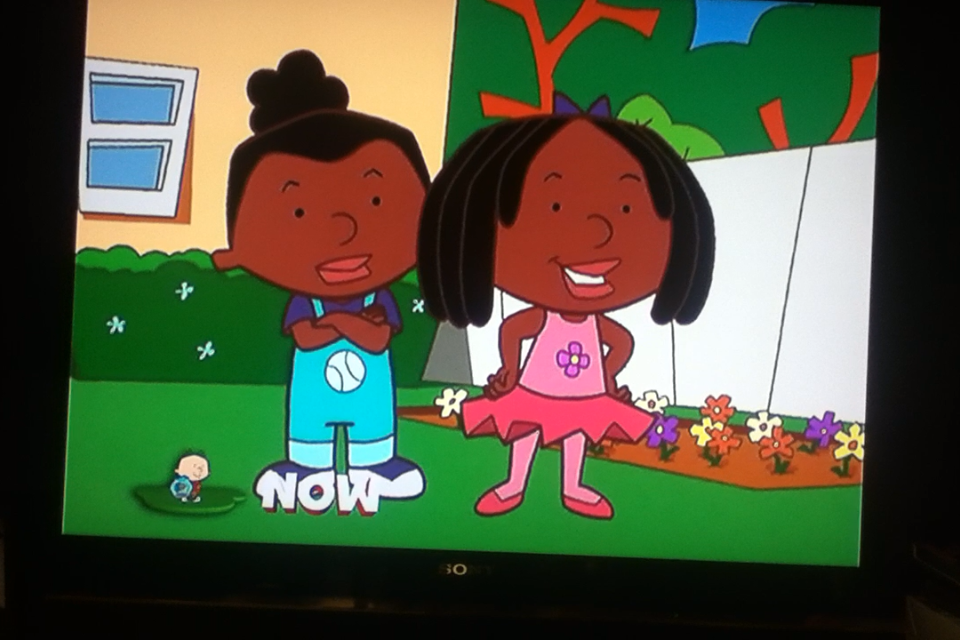 Emmy Award
2002 â€" Outstanding Performer in an Animated Program â€" Charles Shaughnessy For playing "Dennis" (won)
Film
On January 3, 2006, Walt Disney Home Entertainment and Cartoon Pizza released a full-length direct-to-video movie based on Stanley. Entitled Stanley's Dinosaur Round-Up, the film centers on the titular character as he, along with Elsie, Dennis, Harry, Mimi, Lester and Marci, team up to save his Great Uncle Stew (John Ritter, who completed his work for the film before he died)'s dude ranch from the greedy Rockin' Rory (an uncredited Randy Quaid) who intends to buy the ranch and turn it into an amusement park.
Episodes
Up The Apple Tree / Kangaroo Clean-Up: - Stanley ruins his mother's birthday present;Stanley discovers how cleaning up is.
Bearly Awake / The Eagle Has Landed: Stanley sleeps during school;Stanley learns all about eagles.
Dolphin Talk / There's Something Snaky Going On: Stanley learns why dolphins communicate;Stanley learns all about snakes.
Camel Commotion / There's Snow Place Like Home: Stanley goes to the park;Stanley plays in the snow and learns about polar bears.
Frog Legs / Whoo's Afraid of the Dark?: Stanley is scared to go to the big kids pool;Stanley is afraid of the dark.
Tiger Hunt / Monkey Bar Business: When Stanley's family gets tired of him taking pictures of them, they encourage him to find something else to take pictures of. Stanley decides to play a hide-and-seek game with Elsie and takes pictures of her, but wants her to dress up in his old set of tiger pajamas. Elsie, proud of her fur, reluctantly agrees, but then goes off for a cat nap behind the furnace where Stanley can't find her. When Stanley loses the game of hide-and-seek, he realizes he's going to need to learn more about tigers, and by association, cats, in order to figure out the best way to locate Elsie; Stanley has been training hard for the upcoming school field day, but there's one event that he can't seem to masterâ€"the monkey bars. He tries swinging upon them, but ends up falling repeatedly. He decides to learn more about chimpanzees in the hopes of getting swinging tips, but it isn't until he talks to his brother that he really gets results.
The Curse of the Angry Coral / A Little Bird Told Me: Stanley discovers there is a curse;Stanley learns about the Pacific waxwing.
Grandma Griff's Mystery Guest: Stanley learns all about bats and the other halloween creatures during Grandma Griff's party.
Follow the Leader / Zebra Jigsaw: Stanley plays follow the leader;Stanley learns all about zebras and camouflage.
You've Got Pigeon Mail / It's A Prairie Dog's Life?: Stanley's got mail today;Stanley learns all about prairie dogs.
In A While, Crocodile / The Color of Stanley: Stanley loses a tooth;Stanley discovers that Lionel's friends are cool.
Doing Like Ducks / Speedy Does It: Stanley goes on a field trip to the farm;Stanley learns all about roadrunners.
To Catch a Hamster / Pearls of Wisdom: Stanley catches a hamster with his friends;Stanley learns all about oysters.
Platypus Problems / Rabbit Habit: Stanley doesn't know what to wear for an animal day;Stanley learns all about rabbits.
Searching for Spring / Save the Bluebird!: Stanley waits for spring;Stanley learns all about bluebirds.
The Joker / Baby Pictures: Stanley finds animals that are funny;Stanley learns all about baby animals.
A Little Squirrel Music / A Boy's Best Friend is his Fish: Stanley learns all about squirrels; a sad episode
References
External links
Channels
Stanley on Disney Junior Canada
Stanley on Disney Junior Quebec
Stanley on Disney Junior US
Playhouse Disney Official Site
Others
Stanley at TV.com
Stanley at the Big Cartoon DataBase
Stanley at the Internet Movie Database