Cabbage Patch Kids is a line of copyrighted soft sculpture dolls created by 21-year-old American art student Xavier Roberts in 1978. They were originally called "Little People" and were "adopted" rather than "sold". Each came with its own adoption paper and birth certificate. Xavier's Little People were inspired by the work of Martha Nelson Thomas, an artist from Kentucky who was creating her own dolls since the early 1970s. Roberts saw Thomas' dolls sold in a consignment store and bought them up, selling them afterwards in his own store with a substantial markup.
Eventually, he decided to make his own copies of them, selling them as Cabbage Patch Dolls. He used his own needle molding and the sculpting techniques he learned in art classes to make the copies. These "hand stitched to birth" fabric dolls were designed as fabric sculptures and were first offered at arts and crafts shows, then later at Babyland General Hospital in Cleveland, Georgia. The doll brand went on to become one of the most popular toy fads of the 1980s and one of the longest-running doll franchises in America.
The name change to Cabbage Patch Kids was made in the early 1980s when Xavier's company, Original Appalachian Artworks, began to license a smaller version of the hand made creations to a toy manufacturer named Coleco. An abbreviated version of the discovery legend was reproduced on every Cabbage Patch Kids product from 1983 onward. Parker Brothers published the original story retitled "Xavier's Fantastic Discovery" in 1984 and their Parker Records produced a Gold Album using the characters. The characters appeared in many other Cabbage Patch merchandising products ranging from animated cartoons to board games:
Xavier Roberts was a ten-year-old boy who discovered the Cabbage Patch Kids by following a BunnyBee behind a waterfall into a magical Cabbage Patch, where he found the Cabbage Patch babies being born. To help them find good homes he built BabyLand General in Cleveland, Georgia where the Cabbage Patch Kids could live and play until they were adopted.
BunnyBees are bee-like creatures with rabbit ears they use as wings. They pollinate cabbages with their magic crystals to make Cabbage Patch babies.
Colonel Casey is a large stork who oversees Babyland General Hospital. He's the narrator of the Cabbage Patch Kids' story.
Otis Lee is the leader of the gang of Cabbage Patch Kids that befriended Xavier.
Production history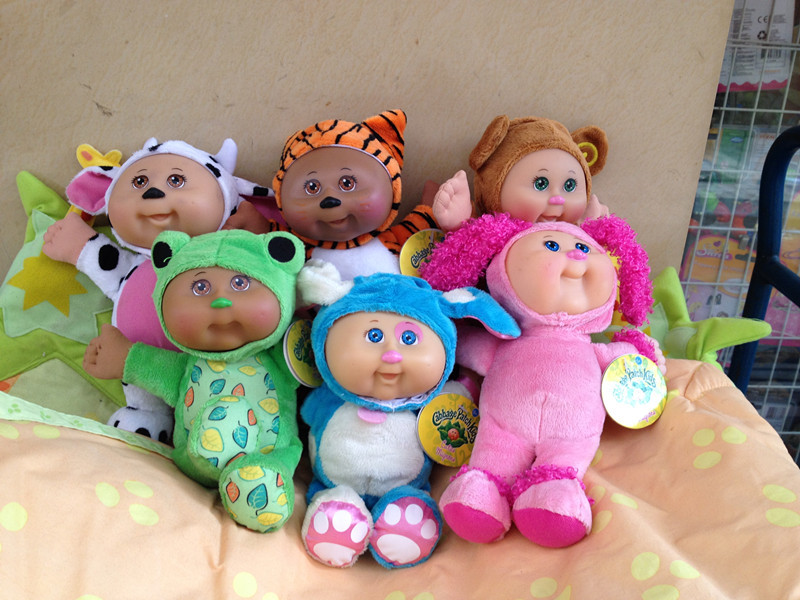 Coleco years
The dolls attracted the attention of toy manufacturer Coleco, which acquired a license from Original Appalachian Artworks and began mass production in 1982. The Coleco Cabbage Patch Kids had large, round vinyl heads (originally of a different, hard plastic), and soft fabric bodies, and were produced from 1982 to 1989, many at a factory in Amsterdam, New York. After Coleco filed for Chapter 11 bankruptcy, the Cabbage Patch Kids were later mass-produced by other companies, including Hasbro, Mattel, Toys R Us, Play Along, Jakks Pacific and currently Wicked Cool Toyrs.
At the peak of their popularity, the dolls were a must-have toy for Christmas. Parents across the United States flocked to stores to try to obtain one of the Cabbage Patch Kids for their children, with fights occasionally erupting between parents over the hard-to-find dolls. In later years, Coleco introduced variants on the original Cabbage Patch Kids, and derivatives of the original line of dolls continued to be marketed.
International Variations
In the 1980s when Coleco was producing the dolls for the North American market, the global craze was fulfilled by other companies:
Jesmar Toy Company made the dolls for the European Market, Including Spain, Italy and Germany.
Lili Ledy Toy Company made the dolls for Mexico and South America.
Triang-Pedigree Toy Company made the dolls for South Africa.
Tsukuda Toy Company manufactured the dolls for Japan and Asia.
The Dolls manufactured by each of these companies, and along with the factories that produced the dolls for North America, produced dolls that were slightly different from one another. Dolls that were made for consumers in other countries than the United States hold a higher value in the eye of some American collectors.
Hasbro years
Hasbro took over the rights to produce Cabbage Patch dolls in 1988 as Coleco went bankrupt, and continued to make the dolls with various gimmicks, including dolls that played kazoos. Some of the more popular doll lines to come out under the Cabbage Patch Kids name included the "Birthday Kids", "Splash 'n' Tan Kids", and "Pretty Crimp and Curl". Hasbro gradually began making the dolls for younger children, which led to smaller and smaller dolls. Although Cabbage Patch dolls were still best selling toys, Hasbro never really revitalized the Cabbage Patch market. In 1994, Mattel acquired the licensing rights to the dolls from Original Appalachian Artworks.
Mattel years
In 1994, Mattel took over the Cabbage Patch brand, including production.
The Mattel Cabbage Patch dolls are not limited to cloth bodies and included dolls made from vinyl, which produced a more durable play doll. The Mattel dolls are mostly sized 14" or smaller, and most variants were individualized with a gimmick to enhance their collectibility, e.g. some dolls played on water-toys, swam, ate food, or brushed their teeth.
Some memorable Mattel lines include the updated Kids line of basic cloth dolls that came with birth certificates, the OlympiKids that were made to coincide with the 1996 Olympics, and the Cabbage Patch Fairies. Additionally, to celebrate the dolls' 15th anniversary, Mattel created a line of exclusively female dolls with a new molded fabric face, dressed in a custom outfits and packaged in collectible boxes. These were 16 inches tall, the same measurement of the first Coleco Cabbage Patch Kids.
Toys "R" Us Kids
In 2001, retailer Toys "R" Us took over the Cabbage Patch brand from Mattel, producing 20-inch Kids and 18-inch babies, both with cloth bodies and vinyl heads. They were packaged in cardboard cabbage leaf seats. In 2001, the 20-inch dolls debuted in the Times Square flagship store. These were created to celebrate the 20th anniversary of the line, and were available both online and in stores around the US.
Play Along Toys
The Toys "R" Us line lasted until Play Along toys obtained exclusive licensing rights to produce the Cabbage Patch Kids doll line. In 2003, Play Along They launched a Cabbage Patch Kids 25th Anniversary collection using some of the original head sculpts from the very first Coleco editions. Play Along also partnered with Carvel Ice Cream in a co-branding campaign. The resulting co-branded Cabbage Patch Kids were packaged with a Carvel-branded ice cream cone.
Jakks Pacific
JAKKS Pacific acquired Play Along Toys and assumed the master toy licensee (c2011) for the Cabbage Patch Kids. Jakks introduced a 14-inch Cabbage Patch Kids Fashionality(TM) line and other Cabbage Patch Kid products. In 2013 Jakks Pacific released the Celebration edition to commemorate the 30th Birthday of the licensed Cabbage Patch Kids.
Wicked Cool Toys
Wicked Cool Toys is now the current master toy licensee for the Cabbage Patch Kids.
Cabbage Patch Kids brand
The original 1982 Cabbage Patch Kids license agreement with Coleco Industries was negotiated by Roger L. Schlaifer on behalf of Schlaifer Nance & Company, the exclusive worldwide licensing agent for Roberts' company at the time.
Following Schlaifer Nance & Company's signing of Coleco Industries, SN&C signed over one hundred and fifty licenses for branded products ranging from the first children's licensed character diapers and low-sugar cereal to clothing, backyard pools, and thousands of other children's products â€" generating over $2 billion in retail sales for 1984, alone. Total sales during the Schlaifers' tenure exceeded $4.5 billion. While sales of the dolls and other licensed products declined precipitously in the late 1980s, the dolls have become a mainstay of the toy industry, and one of the few long-running doll brands in history.
Porcelain Cabbage Patch Kids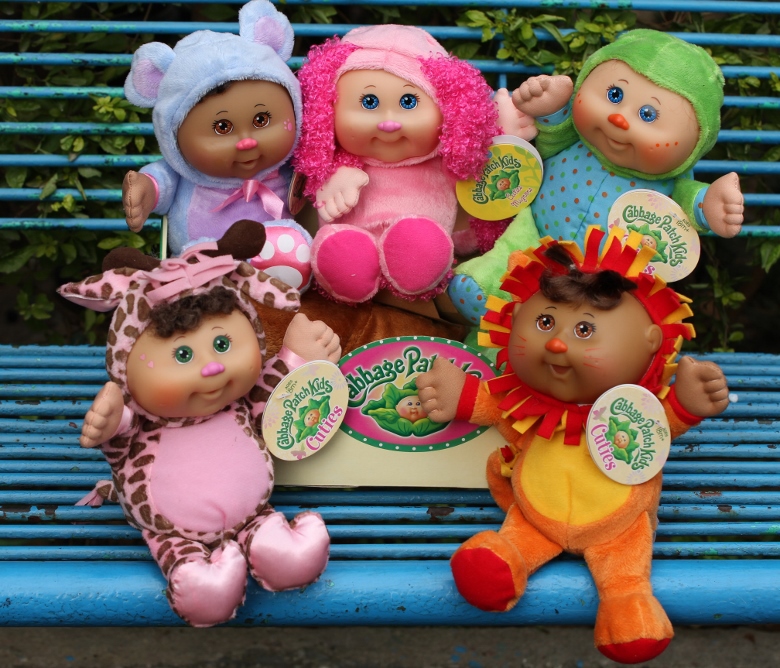 These dolls are available by direct mail from the Danbury Mint. They have a rigid fabric body with porcelain legs, arms, and head.
Talking Cabbage Patch Kids
An extension to the line was the "Talking Cabbage Patch Kid"introduced by Coleco, equipped with a voice chip, touch sensors, and an infrared device for communicating with other such dolls. The touch sensors enabled the toy to detect when and how the toy was being played with in response to its vocalizations, e.g. the doll might say "hold my hand" and give an appropriate speech response when the touch sensor in the hand detected pressure. A more remarkable effect occurred when one doll detected the presence of another through its IR transmitter/receiver. The dolls were programmed to signal their "awareness" of each other with a short phrase, e.g. "I think there's someone else to play with here!", and then to initiate simple conversations between the dolls themselves with enough randomness to sound somewhat natural.
Babyland General Hospital
Babyland General Hospital is the "birthplace" of Cabbage Patch Kids and is located in Cleveland, Georgia. Roberts converted an old clinic into a "Hospital" from which to sell his dolls, originally called "Little People". The facility is presented as a birthing, nursery, and adoption center for the Cabbage Patch Kids. In accordance with the theme, employees dress and act the parts of the doctors and nurses caring for the dolls as if they are real. Babyland General moved to a new facility on the outskirts of Cleveland, Georgia in 2010 and has been voted one of the Travel Channel's top 10 toylands.
Controversies and hoaxes
The early doll maker who inspired Xavier Roberts was Martha Nelson Thomas. Roberts first saw Martha's "doll babies" at the guild fair in Berea and purchased some of her dolls for resale at the Unicoi gift shop in Helen, Georgia. Martha decided she did not want to commercialize her creations so Xavier stole and copyrighted his own design. Martha Nelson Thomas and Xavier Roberts entered into a dispute about the existence of the two different doll lines. It was settled to both parties satisfaction in the early 1980s in a confidential out-of-court settlement. Martha continued to make and sell her doll babies as she wished and Xavier continued with the marketing of his Little People brand with the help of a few friends and family members.
Cabbage Patch Kids were parodied by the Garbage Pail Kids trading cards. The parody led Xavier Roberts to sue Topps, the maker of Garbage Pail Kids, for trademark infringement.
One line of Cabbage Patch Kids dolls, the Cabbage Patch Snacktime Kids, was designed to "eat" plastic snacks. The mechanism enabling this was a pair of one-way smooth metal rollers behind plastic lips. The snacks would exit the doll's back and 'magically' appear into a backpack. The mechanism could be de-activated by releasing the back pack. They were extremely popular during Christmas 1996. The line was voluntarily withdrawn from the market following an agreement between Mattel and the Consumer Product Safety Commission in January 1997 following several incidents where children got their fingers or hair stuck in the dolls' mouths leading to safety warnings from Connecticut's consumer protection commissioner, Mark Shiffrin.
One Cabbage Patch Kids urban legends included rumors that owners sending dolls to the manufacturer for repairs are issued death certificates.
Timeline
1978: The first "Little People Originals" were delivered by Xavier Roberts, who incorporated Original Appalachian Artworks, Inc.
1981: There was coverage of the dolls' popularity in Newsweek, The Wall Street Journal, and Atlanta Weekly.
1982: Original Appalachian Artworks, Inc. signed a long term licensing agreement with Coleco Industries to produce the dolls in August 1982.
1983: Cabbage Patch Kids were introduced with great fanfare at the International Toy Fair in NYC. By October, riots were occurring in stores around the country. The dolls made the cover of Newsweek before Christmas and stories of their success were heralded around the world.
1984: Sales for Cabbage Patch Kids branded products, from toys to children's apparel, came close to the record setting $2 billion mark. The CPK record produced by the Chapin Brothers for Parker Brothers' music went Gold and Platinum.
1985: Cabbage Patch Kids low-sugar breakfast cereal and real children's character art diapers were introduced. The Cabbage Patch Kids Christmas Special was number one in its time slot on ABC.
1986: The first talking Cabbage Patch Kids.
1988: Coleco Industries, filed for bankruptcy, but dolls continued to be made, with the licensing rights being granted to Hasbro Industries and later to Mattel.
1992: Cabbage Patch Kids were named the official mascot of the 1992 US Olympic team and members of the team were given their own dolls to take to the games.
1996: The Cabbage Patch Snacktime Kids were released.
1999: Popular vote selected the dolls as one of the 15 commemorative US postage stamps representing the 1980s.
2008: All US Presidential and Vice Presidential Candidates had their own Cabbage Patch Kids. Barack Obama was depicted with a blue suit. John McCain was depicted in a suit with grey hair. Joe Biden was also depicted in a suit with his hair slicked up. Sarah Palin was depicted in a trademark suit and skirt with high heeled pumps. Also, Palin's signature hair and eyeglasses were featured.
References
Further reading
Hoffman, William (1984). Fantasy: The Incredible Cabbage Patch Phenomenon. Dallas: Taylor Publishing. ISBNÂ 9780878333868. OCLCÂ 10996773.

 
External links
Cabbage Patch Kids Official Site
Cabbage Patch Kid Restoration Official Site
Cabbage Patch Kid mania
Urban Legends Reference Page on Cabbage Patch Kids legends
Urban Legends Reference Page on Cabbage Patch death certificates
Whatever Happened To Cabbage Patch Dolls?