For other meanings see Animal Crossing (disambiguation).
Animal Crossing (どうぶつの森, Dōbutsu no Mori, lit. "Animal Forest"), is a community simulation video game series developed and published by Nintendo, in which the human player lives in a village inhabited by anthropomorphic animals, carrying out various activities including fishing, bug catching, etc. The series is notable for its open-ended gameplay and extensive use of the game systems' internal clock and calendar to simulate real passage of time.
Four Animal Crossing games have been released worldwide, one each for the Nintendo GameCube, Nintendo DS, Wii, and the Nintendo 3DS. The series has been both critically and commercially successful and has sold 23.711 million units worldwide.
Gameplay
In all of the Animal Crossing games, the player assumes the role of a human character, who moves into a rural village populated with anthropomorphic animals and lives there indefinitely. Gameplay is open-ended: players have no defined objectives, but are instead encouraged to spend their time in the village performing any number of activities, which include collecting items, planting plants or other items, and socializing with the village's residents. All Animal Crossing games are played in real time, utilizing the system's internal clock and calendar. Thus, passage of time in the game world reflects that in reality, as well as the current season and time of day. Some in-game events, such as holidays or the growth of a tree, occur at certain times or require some duration of time to have passed.
One notable feature of the Animal Crossing series is the high level of customization available, some of which affects the outcome of the game. The player character is both named and gendered, and their appearance can be modified by buying or designing custom clothes and accessories or changing the hairstyle (introduced in Wild World). The player's house can also be furnished, decorated, and later expanded: the player can purchase and collect furniture from Tom Nook, the village merchant, and place it anywhere in the house, as well as change both the wallpaper and floor designs. While its terrain, building locations, and initial residents are randomly generated when the game is first begun, the village's name and anthem, as well as some of the residents' catchphrases, are also determined by the player.
Collecting items is a major facet of Animal Crossing: the player can explore the village and gather objects, including fruit from trees, seashells, and discarded items. Nearly all objects can be sold to Tom Nook for Bells, the in-game currency; objects that Tom Nook will not pay the player for will be taken from him free of charge. Players collect objects as often as possible to obtain more Bells, which can than be used to buy desired items. A number of specialized tools are available for other activities such as fishing and insect collecting. Special items, such as fossils and paintings, may be donated to the village museum. The player can choose to socialize with the other animal residents by engaging in conversation, sending and receiving letters, bartering, or playing hide-and-seek. Residents may move in or out of the village depending on the player's actions.
All installments of Animal Crossing allow some form of communication between players, both offline and online. A single village can house up to four human players, though only one can be exploring the village at any given time. The players can interact via written messages through the village post office or bulletin board. The Nintendo GameCube iteration allowed players to travel to other villages by trading memory cards written with the game data, but all subsequent installments allow players to travel and interact online via Nintendo Wi-Fi Connection, although City Folk also allows the DS Suitcase to travel to others' towns.
Games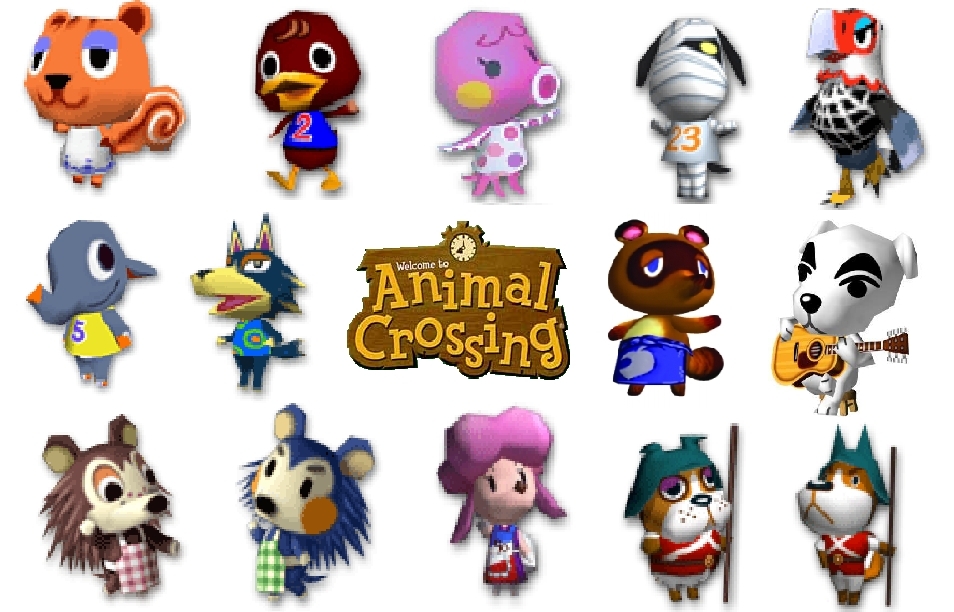 Animal Crossing (Animal Forest in Japan), originally released only in Japan for the Nintendo 64 in 2001, was eventually ported to the Nintendo GameCube and released in all other regions by 2004.
Animal Crossing: Wild World, released for the Nintendo DS in 2005, the first game in the series to utilize the Nintendo Wi-Fi Connection.
Animal Crossing: City Folk (in North America) / Animal Crossing: Let's Go to the City (in Europe & Australia), released for the Wii in 2008, was the first Wii game to utilize the Wii Speak accessory for online play.
Animal Crossing: New Leaf, first released for the Nintendo 3DS in Japan in 2012 and in other regions in 2013, the first game where the player can take on the role of town mayor.
Spin-offs
Animal Crossing Plaza, released for the Wii U in 2013, a Miiverse application similar to the system's WaraWara Plaza.
Animal Crossing: Happy Home Designer, upcoming Nintendo 3DS game.
Reception and legacy
The Animal Crossing games have garnered positive response. The first three games are among the best-selling for their respective consoles. Animal Crossing has sold 2.321 million copies; Wild World 11.73 million; and City Folk 3.38 million. Animal Crossing: New Leaf has so far sold 8.73 million units. In total, the Animal Crossing franchise has sold 24.15 million units.
An anime film adaptation of Wild World, titled Dōbutsu no Mori, was released in Japan on December 16, 2006. The film was produced by OLM, Inc. and distributed by Toho. Dōbutsu no Mori earned ¥1.8 billion (approximately $19.2 million) in the box office.
The 2008 Wii game Super Smash Bros. Brawl features a wide number of elements from Wild World. Most prominent is a stage based on the animal village, called "Smashville," which changes its scenery in accordance with the Wii system clock and features a number of songs remixed or extracted from the original game. Mr. Resetti and a pitfall seed, which appear in all Animal Crossing games, are available as an Assist Trophy and an item respectively. Brawl also features 24 collectible trophies based on Animal Crossing characters and items.
Wii Music features two playable songs from Animal Crossing.
The minigame "Animal Crossing: Sweet Day" in Nintendo Land is based on the Animal Crossing game series. The objective of the game is for the Wii Remote players (1-4), to gather large amounts of candy scattered around the area and store them in their head without getting caught by the Groundskeepers, who are controlled using the 2 Wii U GamePad analog sticks.
A playable character called "Villager" represents the Animal Crossing series as a fighter in Super Smash Bros. for Nintendo 3DS and Wii U. His or her moves include the ability to catch other players in a net and firing Lloid the gyroid as a missile. Additionally, Isabelle from New Leaf appears as an Assist Trophy, and two new Animal Crossing stages appear in the games: "Town & City" from City Folk in the Wii U version, and "Tortimer Island" from New Leaf in the 3DS version.
Villager and Isabelle are playable characters in Mario Kart 8 via downloadable content, along with a racetrack based on Animal Crossing.
On June 5th 2015, Isabelle and Mr. Resetti were added as craftable costumes for the player's "Palico" in Monster Hunter 4 Ultimate.
See also
References